Back Story / The Bad News
Back in October 2018 we wanted to paddle around Blackhawk Island when we could be sure we would not encounter Dells Boats in the narrow channel. We knew that Upham Woods (a UW facility) had erected a fence at the launch site on Highway N, but locals had told us it was OK to just go around it – so we did. (see relevant post) It was serene and lovely, and we were ready to do the same paddle the following year but found the fence now plastered with many "NO TRESPASSING" signs – so we didn't. We registered our outrage with the appropriate authorities and signed a petition to the UW Board of Regents requesting that they reopen this access. Despite the weeping and gnashing of teeth, their hearts were hardened; and the access remains closed – for "risk management reasons."
The Now / Good-ish News
However, the good news is that Upham Woods now has a Paddle Pass Program whereby, after jumping through a few hoops, paddlers can use the Upham Woods parking lot and canoe beach to access the river.
We arranged a time to meet with naturalist John Celley for the required orientation/education session and facilities tour. He was very friendly and accommodating and narrated the required 30- to 45-minute slide presentation about the history and mission of Upham Woods and the rationale of the Paddle Pass Program. He answered all our questions, provided our Paddle Passes and car placard and gave us a tour of the grounds. He has been at Upham Woods for about a year and has advocated for making it as easy as possible to get people on the river, so there are no requirements for "volunteer work" as was apparently proposed by some UW officials.
The Paddle Pass Program requires that
start here: https://fyi.extension.wisc.edu/uphamwoods/programs/outreach-programs/community-programs/
we notify Upham Woods of our plans a day or so ahead – longer in advance if possible if we want to paddle in the evenings or on weekends, especially if it's in October or November.
A staff member will meet us to sign us in, provide a paddle plan and sign out.
If the camp isn't busy, we can drive down fairly close to the canoe/swimming beach to unload our boats. If the camp is busy, we would need to park and carry our boats a bit farther or use the carts which they provide.
Our Paddle Passes allow us to bring one guest per pass
Access is for the launch area only, pass does not allow access to the island itself.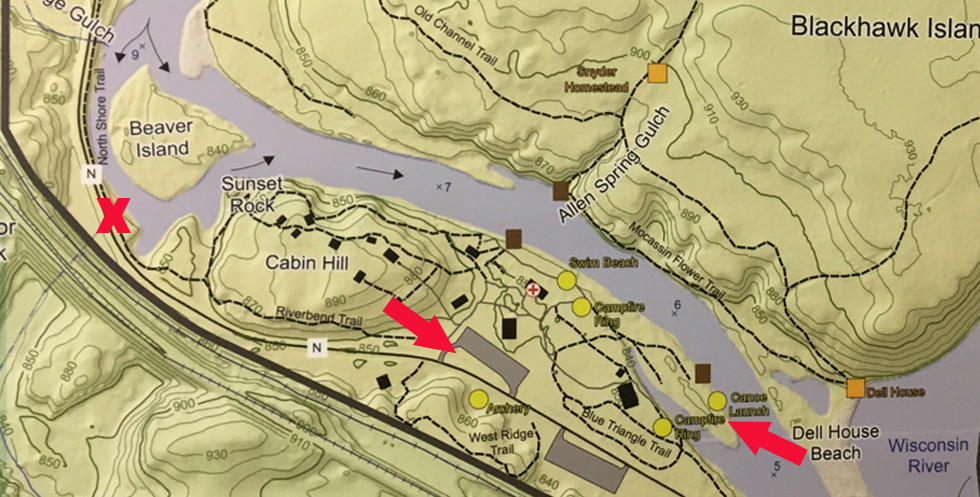 The red X shows where you can no longer launch. The middle arrow is parking / check in building and the right arrow is the boat launch.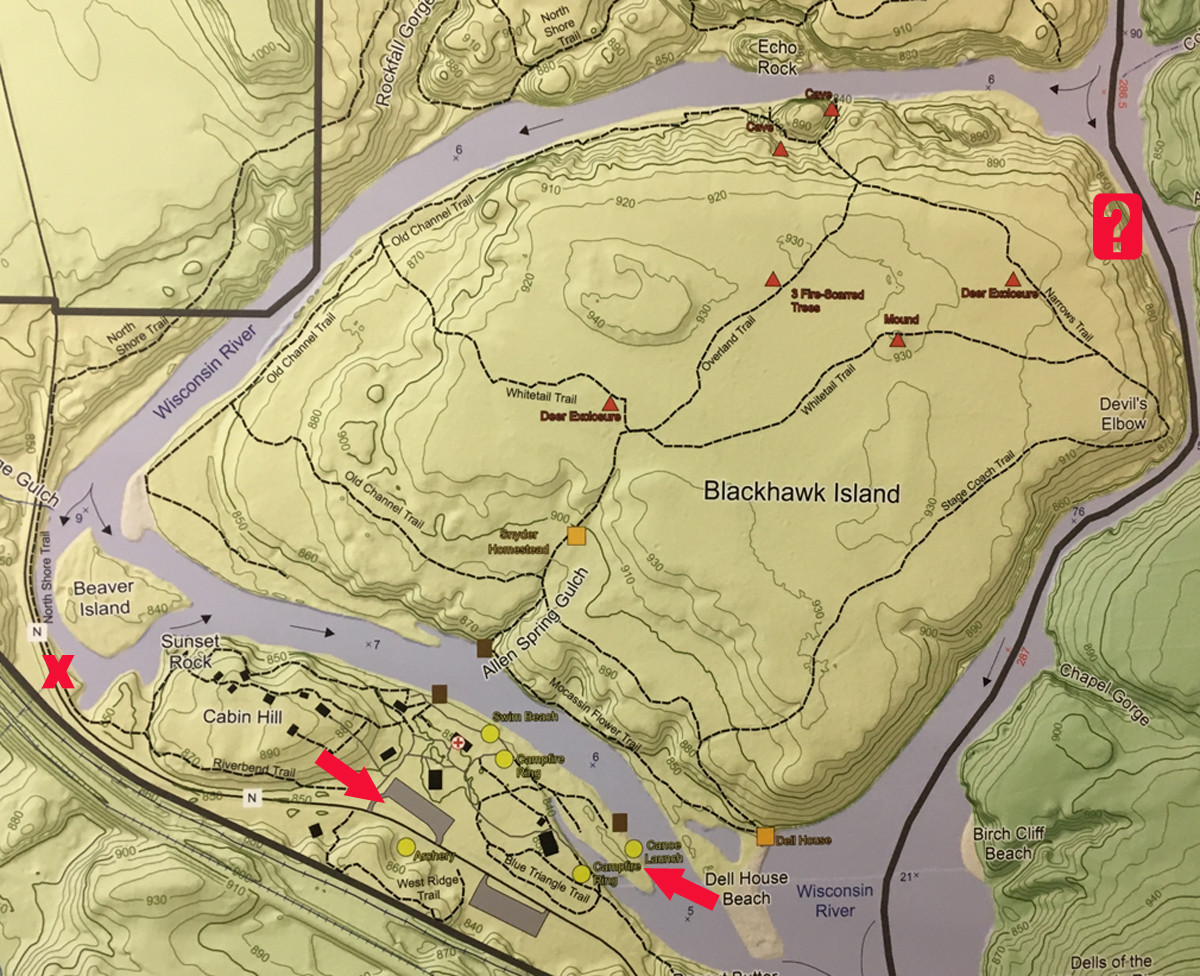 Map of the full area. Take caution in the area with the question mark. Best to paddle after the tourist season is over